THEIA Modules
Pipeline Integrity Management Solution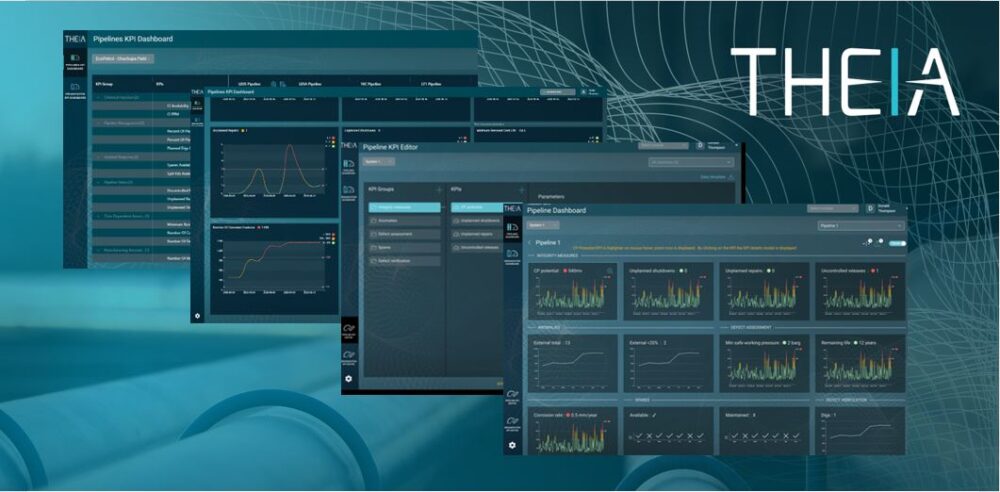 THEIA pipeline integrity management software solution offers a comprehensive suite of modules that clients can choose from to suit their specific business requirements. We offer flexible and bespoke software packages to meet our clients' needs. We value our client's input, and we work closely with them to help shape the future roadmap for THEIA.
As an innovative pipeline software solution, THEIA enables pipeline operators to:
Extract value from historical data and real-time data
Acceleration of assessment and decision-making process
Increasing value from optimisation of asset performance
Confidence in asset compliance and regulatory requirements
Empowerment of integrity engineering team and continuous improvement
Integration with parallel business processes and KPIs
Align data via customized data techniques
Key THEIA Modules
KPI Tracking Dashboard
THEIA delivers insights into pipeline integrity within a predictive analytical environment for a fast and more accurate prognosis.
GIS Mapping
THEIA GIS mapping functionality enable users to digitally view, analyse and manage their pipeline information.
Data Lake
THEIA empowers engineers to capture the value of their data through various customisable data management techniques. Within a single digital platform, engineers can effectively record, manage and store all their pipeline data within a central document repository system.
THEIA's user-friendly interface enables engineers to seamlessly add and upload data anytime and anywhere.
Assessments
With THEIA, pipeline operators are empowered to carry out their own asset integrity assessments in-house.
Technical Library and E-Learning 
Keep your team trained with the latest integrity standards. THEIA offers a wealth of e-learning materials developed by Penspen, which are based on multiple MSc University courses.
Watch Our Latest Animation
Meet Mo, a Trainee Pipeline Integrity Engineer. Mo is our next character in a series of 'A Day in the Life of…' short animations, which have been produced as part of the launch of THEIA pipeline integrity management software solution.
Find out more
Get in touch with us for further information, or you access the information below.
Upcoming Events & Webinar Recordings