A Day In The Life Of A Proposals Manager
In our "Day in the Life Of" Series, we acknowledge the diverse skill set and talent our employees bring to the day-to-day running of Penspen.   
In this interview, we meet one of our Proposal Managers, Prateek Khanna, who shares the importance of delivering technically qualitative solutions, his thoughts on the industry shift towards cleaner energy, and how diverse a career in engineering can be. 
Name: Prateek Khanna
Role: Proposals Manager
Team: Proposals
Office Region: Abu Dhabi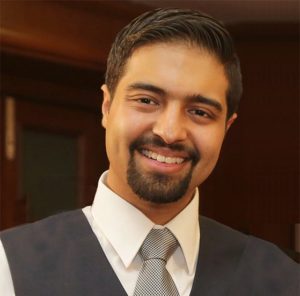 Prateek, how would you describe your role as a Proposal Manager?   
If I had to summarise my role, I would say it is diverse and provide responsibilities that challenge me daily.   
A client proposal should reflect the capabilities of our services, and therefore it is essential to ensure that the proposals we submit not only meet the clients' expectations, but also show that we are able to translate and reflect our capabilities, resources, and personnel to their maximum potential.    
One of my key responsibilities is to ensure we propose a technically qualitative and commercially competitive solution for our oil and gas, and energy clients.   
What excites you most about your role and the industry?   
Every day is different and working towards finding good solutions with the support of Penspen's strong and diverse team is what excites me the most. I have been fortunate to have a line manager who is invested in my professional development, who has been instrumental in ensuring that I operate with success. 
The most exciting aspect of the oil and gas industry for me personally, especially the MEA region, is that the industry is continuously evolving, be it in terms of processes, products, or techniques. It is exciting to be an active part of this evolution.   
What does a typical workday look like for you?   
Here at Penspen, the Sales and Proposals team frequently work on multiple opportunities simultaneously, which requires a great deal of multitasking skills without losing focus.  
Typically, my workday starts with actively managing client requests, as out clients are our top priority. During the second half of the day, I tend to work on the more analytical task requirements, such as drafting proposal content, commercial strategies, and ensuring that all potential clients bid submission timelines are met. One of the main goals for the team is to build long-term relations between Penspen and its clients.  
How do you see the industry changing in the next few years?   
The oil and gas industry remains one of the most valuable industries in the world, with one of the most a well-renowned oil and gas giants based here in the Middle East. I do expect to see a considerable shift towards cleaner/greener energy in the future, with the focus being on hydrogen-based developments. 
Finally, how do you wind down after a day at work?   
Not a lot of people may know this, but my wife and I are avid online gamers, and we like to unwind by participating in online gaming tournaments.