Putting Our Values into Action During COVID-19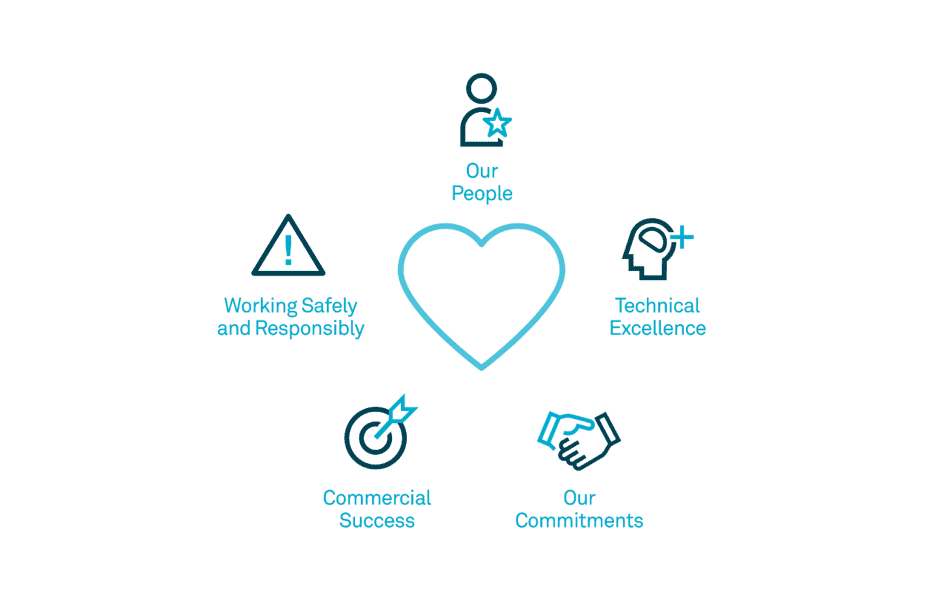 Here at Penspen our Values are supporting us through the COVID-19 pandemic. We recognise the efforts of our people throughout the year with our quarterly awards, which represent each of our five Values and our One Penspen ethos. Individuals receive an award for going the extra mile in demonstrating each of our Values in their daily roles. During this time, the recipients of our quarterly awards have gone above and beyond to work with our clients and carry out essential work to keep you safe. See how our people have been putting our Values into action in the Europe region during this challenging time.
Working Safely & Responsibly – Safety is our number one priority and we are committed to the goal of zero harm. We work as a team to take care of each other and ensure everyone goes home safely. We pursue success safely and responsibly, ensuring that we operate both sustainably and ethically.
In our response to COVID-19, we have undertaken a bespoke risk assessment to identify new controls. We have added these actions to our existing controls, to ensure we can safely continue our services to our clients.
Meet our quarterly award winner, Rachel Voller, who is a Lead Planner at Penspen. She has supported our ability to undertake our risk assessments by providing detailed analysis of our future work activities.
Our people– Our people are our key assets. As a team of insightful people, we are dedicated to delivering value to our clients. We treat people as individuals by rewarding their successes, supporting their aspirations and empowering them to make a difference.
During this time, it has been more important than ever for us to stay connected and recognise the work of our colleagues and how we can help one another. Lianne Charles has helped to connect the team and remains committed throughout a number of situations. For example taking responsibility during the flooding near our Neath office earlier this year to the current COVID-19 pandemic.
Our Commitments– We deliver on our commitments, both to our clients and each other. By working together, we ensure high-quality work, on time and within budget, every time.
Our client's assets are all part of key national infrastructure.
We have worked with our clients to deliver their needs in a safe and efficient way. Excellent communication, dedication and focus have led to positive customer feedback during this difficult period.
Rob Wilcock, Head of Operations, his leadership team and his team of field Technicians have continued to demonstrate these attributes 24 hours a day, 7 days a week throughout the pandemic period.
Technical excellence – We value and cultivate our technical leadership in order to help our clients. We support each other by sharing knowledge across the business and the industry. Enabling critical knowledge to flow allows us to address our clients' complex challenges.
When we haven't been able to undertake our usual activities due to social distancing guidance, we have used our technical expertise to find alternative methods to meet our client's needs.
Clare Robinson has continued to work hard to ensure the technical integrity of our solutions and deliverables on complex projects, whether working from the office or from home.
Commercial Success – We encourage profitable entrepreneurship and actively manage risk to drive sustainable and commercially successful growth of our business. Our dedicated people have gone the extra mile to ensure commercial success.
To supplement dips in our field resourcing levels due to COVID-19, we have a reservist list of highly skilled and experienced managers and engineers, who are competent to undertake field-based tasks.
Meet Bobby Smith, Project Engineer and reservist, who donned his overalls on several occasions to ensure we were able to continue to meet our commercial obligations.
One Penspen – We work together across all regions and service lines, to support our clients and one another.
Whilst we are a company who are early adopters of technology and are used to having many of our team who work from home, we now have 100% of our non-field roles working from home during the COVID-19 pandemic.
Ivan Thomas, our quarterly award winner for our One Penspen ethos, rose to the challenge of enabling home working across our global organisation. His dedication has enabled our people to continue to work as a team whilst working from home, no matter where they are currently based.