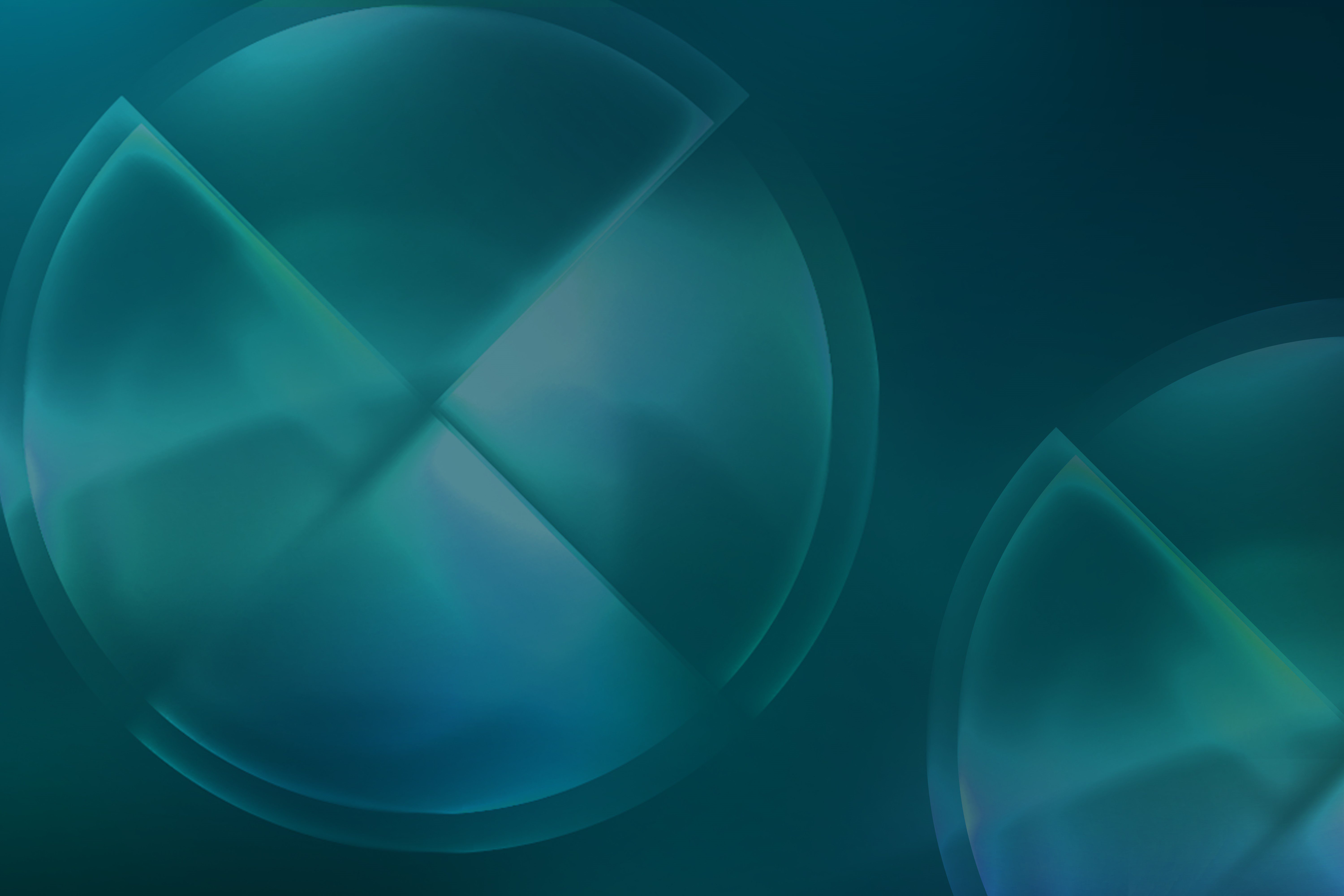 Why pipeline integrity management must change to meet the four key industry challenges
Fast Moving Events
The coronavirus pandemic has thrown into sharp relief the financial challenge the energy industry faces. On Monday 20th April 2020, Brent Crude fell to its lowest level for nearly 20 years. American oil prices collapsed below zero the same day. A day later, on 21st April, Brent suffered its biggest one-day percentage fall since 1991. There is nothing new in oil price fluctuations but these are extreme circumstances. Penspen Vice President, Technical Excellence, Nigel Curson, believes the volatility of the market has long had a negative impact,
Fluctuating energy prices mean pipeline operators are always under pressure to reduce costs, the resulting lack of investment also means they have to maintain ageing assets for longer periods. If these aren't challenges enough, there's a dearth of new talent coming into the industry and regulations are increasingly onerous.
Curson defines these four industry headaches under a single catch-all: the quadrilemma.
Cue for a New Way of Working
In Curson's view, "each of these four headaches is a contributory factor to pipeline failures, which are on the increase". The shortage of people with the necessary skills – combined with decreasing budgets – suggests the tried and tested methodology for pipeline integrity management and defect assessment needs to change. With more advanced technology, inspection data is growing exponentially, which – under current procedures – requires more time for analysis with fewer people to do it.
At Penspen, we have developed THEIA in response to this situation. THEIA is a new cloud-based asset integrity management service, with an initial focus on pipelines. Essentially, we are transferring our traditional methodology onto a digital platform and automating it. THEIA has a suite of analytical tools designed to streamline maintenance, improve safety and productivity, and help reduce costs. Clients can access the service via subscription to run their own analyses. Curson maintains, "the quadrilemma facing the energy industry cannot easily be resolved working under a typical contractual arrangement for a lump sum price, following a drawn out procurement process".
The Quadrilemma Explained
Resources and revenue are decreasing, while failures and regulation are on the rise. Pipeline integrity management needs to become more adaptable to meet the fast-evolving demands of industry. Let's look at the four strands of the quadrilemma in detail: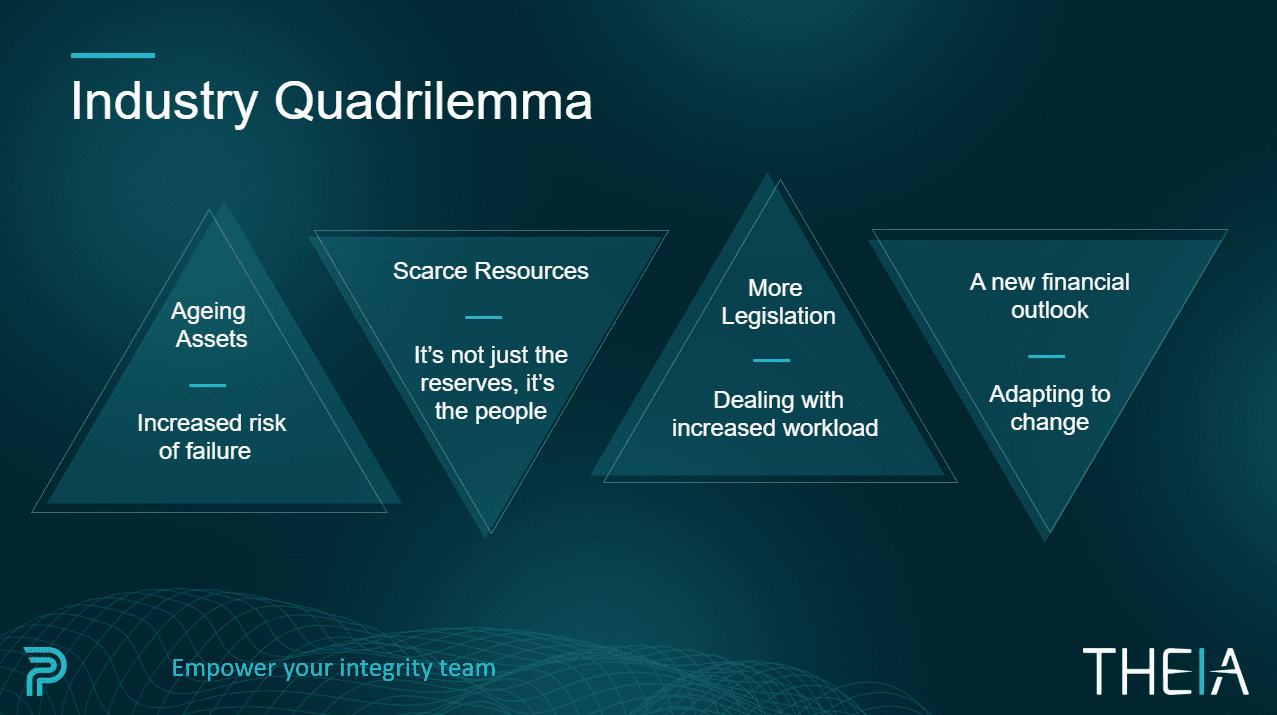 1. Lack of Skilled Resources
For Curson, the fickleness of the industry, with its reliance on the price of oil, is the main reason people decide to leave it. The remaining workforce is getting older, with experienced staff unable to pass on their skills to younger, recently qualified engineers, who are choosing careers in other sectors.
Skills shortages have been identified as a major impediment to growth, with strains on labour capacity in the worldwide oil and gas construction market a well-known occurrence. According to FMI Corporation estimates[1], the pressure to retain and grow talent is unprecedented, with only 10% of the total construction workforce in the USA employed in oil and gas construction in 2017. To quote FMI's Scott Duncan, "As competition for limited resources intensifies, labour and talent management are quickly becoming a key differentiator in company performance and overall company value."
    2. Cost Reduction
Price fluctuations continue to put pressure on operators to reduce costs across all business streams. This priority for cost reduction is unlikely to change, but economies must be achieved without compromising safety and operational efficiency. Speaking at AIPN 2019 in Houston, Chairman and CEO ConocoPhillips Ryan Lance spoke about, "the hyper focus on returns", and, "the returns the energy industry has generated have been negative over the last 10 to 15 years[2]." A theme of last year's conference was the role technology, including cloud computing, would play in generating future value. For Lance, the technological revolution going on inside his company, "is embracing technology, innovation and analytics".
    3. Ageing Assets 
The drive to reduce cost has the knock-on effect of reduced investment in infrastructure, with operators having to maintain existing pipelines. As Curson explains, "assets are ageing, becoming older and failing. Early failures tend to be design failures, then you have a bedding-in stage without any failures. Failures occur when assets get old and worn out".
Many pipelines are still in service for decades longer than originally intended, with the maintenance issues and costs such extended longevity implies. How to extend the life of assets so they continue to be safe and reliable, without incurring unnecessary downtime, depends on having a strategy for remaining life based on associated risk assessment.
Factors for consideration include, "corrosion, erosion, fatigue, equipment obsolescence, normalisation of deviance (accepting degraded conditions as being normal), changes in codes and standards and lack of data to forecast future risks".[3]
    4. Increased Regulatory Demands 
Around the world, governmental focus on safety and environmental compliance is another big burden on pipeline operators. There is no suggestion that the industry should not be regulated but compliance costs are high and regulations are increasing.
In the UK, various statutory bodies are responsible for regulating the onshore oil and gas industry, including the Environmental Agency for England (and devolved Government equivalents); the Health and Safety Executive (HSE); and the Department for Business, Energy and Industrial Strategy (BEIS)[4]. The Government Department BEIS has the responsibility for setting energy and climate change mitigation policies, and exercising its powers under the 1998 Petroleum Act for oil and gas exploration and production. The HSE is responsible for enforcing health and safety legislation arising from work activities, including pipeline operations. Ofgem regulates the downstream gas market and distribution networks.
The regulatory framework is even more complex in the USA, where federal and state rules apply for the siting and construction of pipelines, as well as the services they provide. The Federal Energy Regulatory Commission (FERC), the Department of Energy (DOE) and Department of Transport (DOT) are involved at national level and for interstate pipeline companies[5].
Curson adds, "regulations worldwide are increasing significantly. The onus is on pipeline owners to abide by the regulations otherwise they will lose their licence, and compliance is very costly".
How THEIA Can Help
We are launching THEIA to address the quadrilemma, by giving pipeline operators the freedom to analyse and manage their inspection data for themselves and to do so in a timely manner.
Without a change in working practices, Curson says, "the stakes are high. Operators often don't know what's going to fail and when it's going to fail. If they want to have a prediction, there's the probability they won't have their own resources or ability to make those judgements".
With THEIA, operators will be able to model various 'what-if' scenarios based on Penspen's pipeline integrity experience. Multiple layers of data can be handled, with quickly performed analyses giving results in less than one minute.
The benefits of a cloud-based platform like THEIA mean users have secure access to their data, irrespective of where they are located, as well as the ability to sift huge volumes of data in the shortest amount of time. This enables them to streamline inspections and maintenance, reducing costs and risk. THEIA has the potential to empower integrity engineers everywhere to subdue the headaches associated with the industry quadrilemma.
For further information about THEIA, please contact the team: THEIA@Penspen.com
Articles Cited:
[1] https://www.hydrocarbonprocessing.com/blog/2014/06/skills-shortages-in-a-booming-market-the-big-oil-and-gas-challenge
[2] https://www.worldoil.com/news/2019/5/24/oil-gas-leaders-look-for-cost-reduction-and-efficiency-gains
[3] https://www.intechopen.com/books/maintenance-management/maintenance-management-of-aging-oil-and-gas-facilities
[4] http://www.ukoog.org.uk/regulation#
[5] https://iclg.com/practice-areas/oil-and-gas-laws-and-regulations/usa