Behind the Scenes – THEIA KPI Dashboards

KPI's are a critical component in monitoring the health of any operator's network of pipelines.
Being able to have an easily customisable view of your key performance indicators and collect data from the necessarily wide range of stakeholders, is a desirable goal, but a headache for many in the industry. It is with this in mind that key functionality for THEIA includes a highly configurable KPI dashboard with connections to a wide range of data types.
THEIA ensures that you, as an operator, are focused on being able to collect leading KPIs in an easy and collaborative manner to minimise reliance on lagging data. To this end they are divided between organisational and pipeline specific. Knowing the challenge for operators to collect the data for KPI's THEIA has optimised the process to make this more usable and relevant.
The KPI's can be either organisational, relating to the overall business objectives, for example:
Percentage of Planned Documents Reviewed

 

Non-Conformances

 

Percent of Planned Audits Completed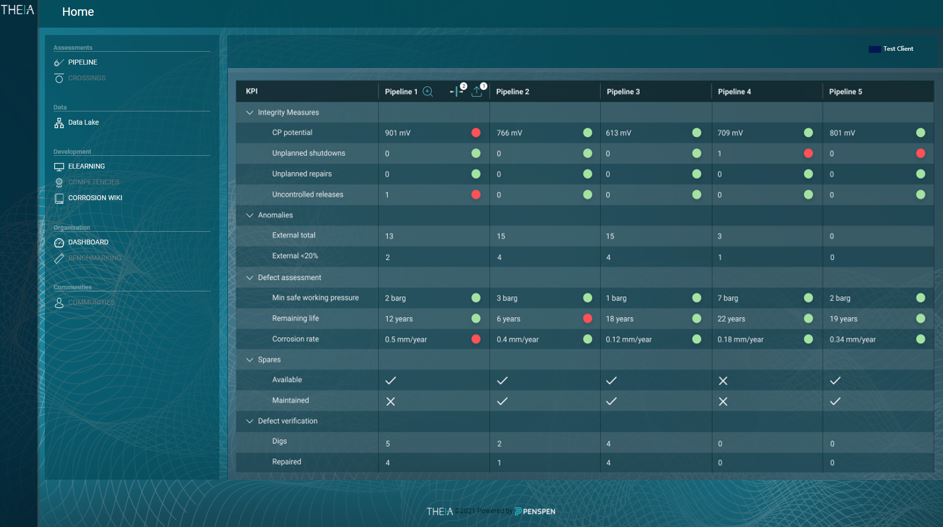 Or pipeline system specific KPI's, for example: 
Chemical injection
Anomaly status
Spares inventory
Remaining life
These are simply examples. As an operator, you know what information you want to be able to see that will enable you to view the health of your pipeline and organisation.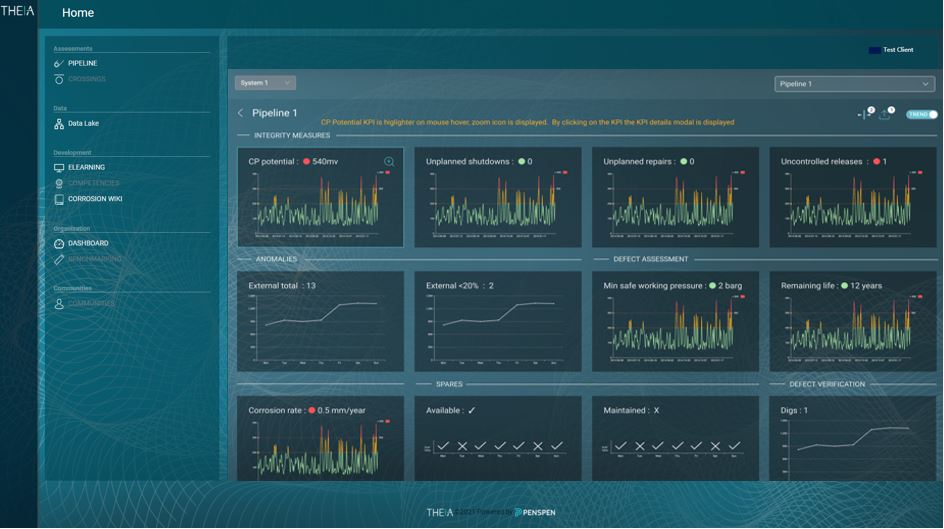 You can modify you can add or modify your KPIs at any point to make them more relevant
At any point, you can add or modify your KPI's to make them more relevant. Your KPI data can be viewed as a data point in time or reveal a trend over a set period. Thresholds are set by you. This can be easily done using the THEIA user interface or uploaded using an excel spreadsheet. The data for the KPI's can also be derived from any assessments and reports you have performed in THEIA.
For further information about THEIA, please contact the team: theia@Penspen.com