Flexible Pipe Integrity
From manufacturing to life extension, Penspen provides the understanding, confidence and education to support the integrity management of flexible pipe. Utilising disciplined teams, bespoke risk profiling and product understanding, we deliver value to our clients through the application of engineering excellence.
With a dedicated team of experienced asset integrity engineers, we ensure products are manufactured, delivered, operated and maintained to the highest possible standards.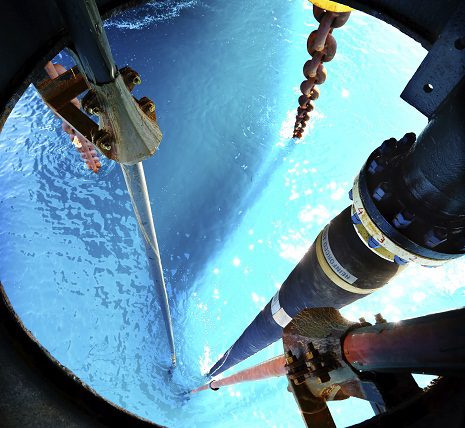 Delivery Management
The integrity of a flexible pipe begins when the pipeline is manufactured. Any issues with material quality at fabrication or procurement stage can impact the overall service life of a pipeline. Our flexible engineers have in depth knowledge gained from working within an OEM flexible manufacturer and are available to assist with management of:
Material logistics;
Manufacturing;
Quality assurance;
Non-conformances;
Factory Acceptance Testing;
Load Out;
Ancillary component delivery;
Installation;
Pre-commissioning;
Project management and scheduling.
Knowledge collated in these early stages is key to developing an asset management strategy to maintain and extend the service life of the asset.
Integrity Management Strategies
To maximise the number of subsea assets that are covered within a single strategy, Penspen can include flexible pipe integrity management within existing pipeline strategies. A full profile of assets can then be established, assessed, tested (if required) and included in a bespoke strategy which draws on industry and best practice knowledge. It is also possible to develop a replacement strategy to mitigate risks and identify potential cost and time savings.
Annulus Testing
The integrity of a flexible pipe in service commences by determining the quality of the annulus conditions. Offshore annulus testing is the baseline assessment to understand the condition of the pipeline. If the annulus is flooded, then further investigation is required to establish an understanding of pipe integrity.
This may include one or all of the following:
Subsea inspection;
Gas monitoring;
Chemical composition;
Risk profiling;
Recommended practice;
Remaining field life;
Annulus testing database;
Global and fatigue analysis.
Risk Based Studies
Using the results from annulus testing, manufacturing run records, observations and historical database analysis, Penspen can identify flexibles that are at the highest risk of failure. We can help clients understand these risks, propose suitable mitigation techniques or provide support for asset replacement.
Life Extension
Many fields are now approaching or exceeding their initial life expectancy but still produce significant quantities of oil and gas. When new pipeline installation is not commercially viable, Penspen can assist clients in identifying pipelines with remnant life and maximising the revenue potential from these assets.