International Women's Day 2018 Lisa Barnes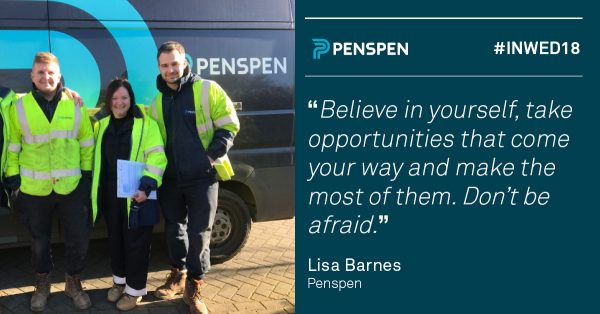 How did you start your career?
I studied Geology at University, with a plan to go into Museum Curation. My first job was in Customer Service for an IT Network Solution Provider. I have built up a good variety of skills since then working in Customer Service (Bayer), Production Planning (Walkers Snack Foods, Dow Corning), Supply Chain Management (Dow Corning), Business Development, Operations and Maintenance Management in Upstream oil and gas and more recently in Industrial Chemicals.
My career at Penspen started as a Junior Project Engineer and has since involved: Health & Safety/Management of the Neath Workshop and its inventory; an Energy Assets Regulator Refurbishment Project and NGN PV4 Hazardous Area Drawing Document Control & Planning.
What does your role involve?
My role involves: delivery of the maintenance schedule; problem solving and supporting the teams on a daily basis; checking and signing off completed work; assisting with HR queries; client liaison; equipment sourcing; supporting supervisors in other areas and working with the Planning department to ensure most efficient plan to meet client and Penspen requirements.
What made you want to work for Penspen?
The role presented a chance to extend my knowledge of gas supply from exploration into people's homes! (Still some tenuous link to geology!!) I have good knowledge of global Exploration & Production companies and I have enjoyed working in Upstream oil and gas. It's great to be able to work for a local company with a global presence, in an industry I enjoy.
What are the best bits of the job?
The best bits are working with the team, solving problems and delivering what our clients need. There is a really good atmosphere in Neath and I've made some great friends. Oh, and driving a forklift!
What are the challenges of the job?
It's challenging not being able to meet or spend time with the teams as much as I'd like. Also, not being able to see problem jobs in-situ and having to deal with them remotely. There are a lot of variables that need to be taken in to account when planning/assigning work that I'm still getting to grips with.
 What advice would you give to someone wanting to get into a similar role?
Believe in yourself, take opportunities that come your way and make the most of them. Don't be afraid.