International Women in Engineering Day 2018 Jacqueline Hunt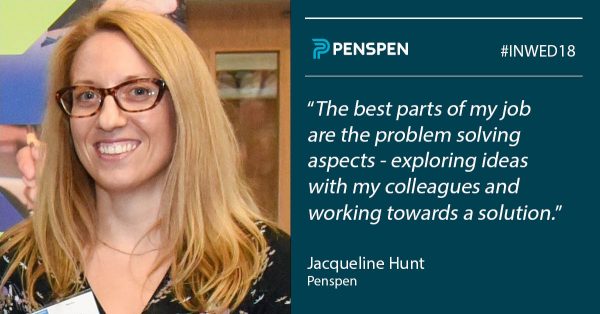 My Job
As a Senior Process Engineer I have a number of responsibilities. My primary role is the design and specification of various
As a Senior Process Engineer I have a number of responsibilities. My primary role is the design and specification of various process systems for onshore and offshore oil and gas facilities and pipelines. A lot of what I do is centred around safety. As a team of chartered engineers we have a duty to ensure we have considered all the potential hazards associated with our process and minimised the risks.
As well as large detailed design projects, I lead smaller assignments and conceptual studies. Every project I encounter is different and I work hard to expand my knowledge to ensure I am always competent in my role. As a senior engineer, I also contribute to the development of the department by producing technical guidelines and calculation templates for others to use and identifying training opportunities.
The best parts of my job are the problem-solving aspects – exploring ideas with my colleagues and working towards a solution. I enjoy working as a team, both within the Process department and across a whole project. I feel a sense of achievement seeing a design evolve from concept to commissioning and operation.
The role of an engineer stretches beyond technical work. Process engineers at all levels must be able to handle challenging clients and learn to juggle workloads and ever-changing priorities. By taking on a lead role, I am responsible for balancing the need for technical excellence with the demands of the clients' schedules. I have to assess the competency of my team and provide guidance and supervision to junior members.
Career Highlights
I am most proud of the contribution I made to the design of the Knarr FPSO gas dehydration module, as I progressed from having no prior knowledge of the process to being the Lead Process Engineer on the job. The unit was successfully commissioned by the Bristol Process team and is in now in operation.
The Western Isles FPSO was a huge undertaking for the company and as a result, the process engineering teams in Bristol and Singapore swelled to around 20 engineers. I had a key role in designing the gas compression train. I ensured my team produced high quality work to a tight schedule and liaised with vendors and the client on important aspects of the design.
The Future
My plan for the future is to develop my role as a Lead Engineer. With solid grounding in engineering principles I can move between industries and take opportunities to expand my knowledge and capabilities.